by Sharon Styger
The demand for cheaper imported tyres in South Africa is steadily growing
The demand for cheaper imported tyres in South Africa is steadily growing as consumers continue to take on economic strain with increasing fuel prices and the inflated cost of day to day living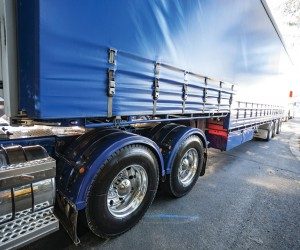 Apart from poor tyre maintenance, the conditions of the roads lead to consumers not getting the full life from their tyres and with tyres being a grudge purchase, it comes as no surprise that more affordable options are becoming more sought after.
Economical Chinese import brands of both passenger and truck tyres have found favour where quality and performance are no longer only applicable to more expensive European and local brands. The products currently imported by ATT are responsibly sourced from the smaller percentage of factories in Asia who pass our standards from both a production and product quality stand point. These factories are personally visited and inspected by our CEO, Rob Beaumont, who has more than 33 years' experience in the tyre industry.
"No one wants any failures on their hands where a poor quality tyre is concerned. In the event of such, it would spell disaster for large resellers like ourselves, so quality is definitely not overlooked and remains our most important criteria for selecting the brands we sell." says Rob Beaumont, Chief Executive Officer of ATT.
While consumers would also have to factor in an increase in tyre costs as the cost of raw materials looks to increase, we are confident that our relationship with our suppliers and technological improvements of our own operation will result in less impact on price increases going forward. The volatility of the market is unfortunately something we don't have control over when it comes to the Rand/Dollar exchange rate, but we are continually working to improve efficiency to benefit our customer's pockets.
As fleet operations will also look to decrease costs, with tyres being on the higher end of the cost scale; it makes sense to consider fitting more affordable tyres that can still positively contribute to a reduced Cost per Kilometre and in even more so that in the event of a tyre being scrapped due to total damage, the value of the loss can almost be halved when comparing the price of some popular brand truck tyres to our own. Our premium truck tyre brand has been proven to run at similar and in some cases even better Cost per Kilometre results when compared to the well-known legacy brands.
To further explore the understanding the production cost of tyres, we see where the huge cost difference is realised between imported Chinese brands and brands consumers may be more familiar with. Most big brand corporations have apart from large production facilities, staff across the globe which require sales and management teams, office space, large stock holding that requires warehousing and significant marketing and advertising budgets. In comparison, the lesser known Chinese brands which apart from the obvious production costs, have almost no other overheads to cover. As they do not keep stock, but manufacture to order and require a 30% deposit for raw materials before production even starts, the cost of the tyres decreases by a large margin.
In addition to this there are only so many rubber plantations around the world and many of the top legacy brands own their own plantations. They not only sell to each other, but also to the Chinese manufacturers, meaning there is no significant difference in the quality and cost of the raw materials used to produce a tyre. In fact this goes for most of the raw materials.
Having mentioned production, we can also look at the structure of a tyre and what it is promised to deliver versus what it actually can do, irrespective of brand. A single tyre brand or type is often sold with the promise of having many different features, such as reduced road noise, efficient handling, enhanced grip in wet conditions and improved fuel efficiency. It is little known to the consumer that a tyre can only be designed to do one thing very well and few other things as well. For example, a tyre that has good grip in wet conditions will actually produce more road noise as the tread grooves will be deeper to allow for water dispersion and so the tyre cannot deliver on both features equally.
While progress is continually made to even out the capability and performance of tyres, it remains an imperfect science and this holds true for both legacy and imported brands.
Of all the world's automotive equipment buyers, Europeans are the most discerning. For example in a mature market like London, around 60% of the cars are fitted with Chinese tyres.In order to import passenger and truck tyres into South Africa, the tyres are required to undergo a homologation process. This is a requirement by the NRCS whereby tyres that are imported need to be EC certified to meet specific quality and performance standards. This means that unless certification meets EU standards, the tyres cannot be brought into the country.
We are so confident in the quality and performance our product range that we fit our own brands to our fleet and back our products with a solid quality guarantee should a customer ever require it.
For example our current claim rate for truck tyres averages at around 0.2%, which on a scale of our sales to date is so miniscule it shouldn't even warrant a mention.
It is evident that the market is changing and consumers are driving the demand for more affordable products while still requiring quality and performance.
Original Article: Road Ahead